In honor of Teacher Appreciation Week each of our SouthsideISD campuses will be hosting a breakfast to honor our teachers, special thanks to BBVA Compass Bank for sponsoring.
How You Can #ThankATeacher
Take the time to show your appreciation this week. To help you thank the teachers in your lives for delivering so much, we've created certificates and flyers!
Here is a list of deals exclusive to the you, the teachers we love:
——-
Chipotle — Stop by any Chipotle on Tuesday May 8 after 3 p.m. and you'll get hooked up with a buy-one-get-one free burrito, bowl, salad or order of tacos.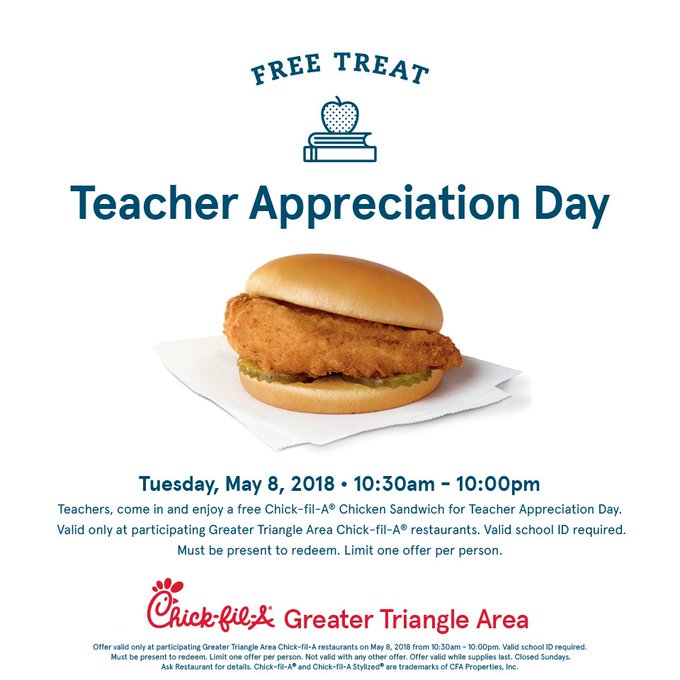 Chick-fil-A — At least one location will be offering a free chicken sandwich on Tuesday May 8. Check your nearest Chick-fil-A location to see if they're listing any deals or promotions.
CiCi's Pizza — Teachers can get a free buffet when they dine in on Tuesday May 8 with this coupon.
MOD Pizza — Stop into MOD Pizza on Tuesday, with your teacher ID, and get 50 percent off a pizza or salad.
Costco — Teachers can save up to $60 when purchasing a new membership. That's not to mention all the savings you'll get when shopping.
Everyday deals:
Michael's — Use this coupon and you can get 15 percent off your entire purchase, every day, including sale items.
Barnes & Noble — Not only can you get 25 percent off during Teacher Appreciation Week, you can continue getting a 20 percent discount throughout the year.
Ann Taylor/LOFT — Take 15 percent off full-price purchases. Click here to learn more.
Apple — Teachers can get varying discounts up to $200 on computers and accessories through theApple Education Store.
Banana Republic — Is also offering that 15 percent off deal on full-priced items.
Cellphone provider discounts — Did you know you can receive discounts through Sprint, T-Mobile and Verizon as a teacher?
J. Crew — Just show your school ID and you'll save 15 percent off your purchase.
Las Vegas trip: Save 10 percent, plus other special offers, at a handful of Las Vegas resort and casinos.
Salata – On May 8, 2018 Buy one salad wrap or wrap and get one free with a valid school id for all educators, teachers, faculty and staff. Valid at all San Antonio locations.
SeaWorld — All credentialed or certified teachers can receive a complimentary pass.